Typographical errors are bound to occur whenever you chat with someone, especially if it is a lengthy conversation. But if there is an option to edit those typos without deleting the whole text, how good will that be? WhatsApp, a popular messaging platform, now allows its users to edit their messages.
Until recently, users often found themselves wishing they could edit messages after sending them on the Meta-owned messaging platform. For instance, you might accidentally send your friend the wrong price of an item or misspell a word. With the ability to edit messages on WhatsApp, you can make changes to correct your mistake and resend the accurate version of the message.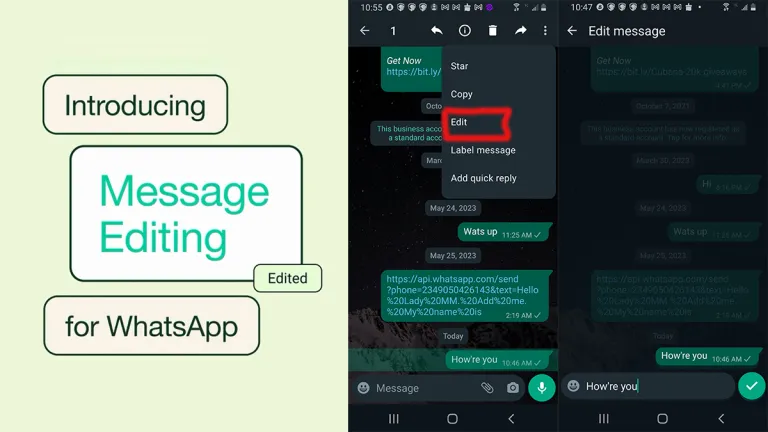 How to Edit Sent Messages on WhatsApp
Given that WhatsApp is cross-platform software, its editing feature is available on all devices. In this comprehensive guide, we will be showing you how to edit sent WhatsApp messages on Android, iPhone, and a computer.
How to Edit WhatsApp Messages on iPhone
Open WhatsApp on your iPhone and long-press the message you want to edit.
Select the Edit option from the pop-up menu.
Now the message will be displayed in a new field where you can edit it.
Enter the message you want the recipient to see and click on the send button.
How to Edit WhatsApp Messages on Android
Open WhatsApp on your Android and long-press the message you want to edit.
Then click the three vertical dots at the top right of your screen.
Select Edit from the context menu.
Then edit the message.
Click the checkmark button once you're done editing it.
How to Edit WhatsApp Messages on Computer
Navigate to the message you want to edit and click the drop-down menu icon next to the message.
Select Edit from the drop-down menu.
Make the changes you want to your message in the new pop-up window.
Then click the checkmark button to save your changes.
If you follow the above steps to the letter, I can assure you that you can edit any messages on WhatsApp regardless of the device you use.
However, it is important to let you know that any message you edit will display an "Edited" label next to the timestamp. In other words, the recipient of the message will be aware that you made some modifications to it.