Have you been searching for a job for a while now? Have you finally found one to apply for? That's great news! Now I guess, you must have been asked to write an application letter. However, I understand that writing an application letter for a Job can be quite daunting. Fret not, by the end of this article, you'll be equipped to craft a compelling application letter with ease.
An application letter holds significant importance when submitting your resume for a specific job. It allows you to elaborate on your qualifications and express your motivations for seeking the position.
A well-crafted application letter has the potential to captivate hiring managers and increase the likelihood of being called in for an interview. So, do you want to submit a nice and intriguing application letter to the company or office you'll be applying for? Then I implore you to read through for an easy guide on how to write an application letter.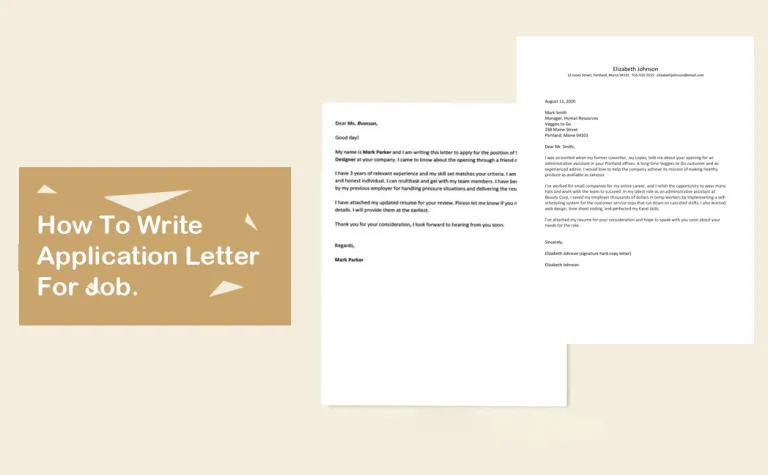 What is a Job Application Letter?
It is also known as a job inquiry email or a cover letter. It is a letter or document that goes along with your resume whenever you are applying for a job. Even when employers don't ask for a job application letter.
It will be advisable for you to write it because it will assist you in listing your acquirement and skills and also get the attention of the hiring managers. Moreover, whenever it is listed that you should not send an application letter, please don't hesitate to follow the instruction and not send it.
Important Components of a Job Application Letter
Here are the important components of a job application letter;
Subject Line: This should be brief and logical to state the reason for the job application such as your name and position title.
Salutation: Address the receiver formally, using words like To Whom It May Concern (if the specific contact isn't known) or Dear Sir/Ma.
Opening Paragraph: Start by saying the position you are applying for and where you found the job written down. And also, concisely mention your qualification or experience.
Body Paragraph: This is a lucky chance to extend upon your skills, achievements, and experiences that range with the job requirements.
Closing Paragraph: Express your eagerness for the opportunity to join the company. And also appreciate the receiver for considering your application.
Closing and Signature: Use an executive closing, such as Best regards or Sincerely then your full name should be written after that, follow by your contact information (email address and phone number).
Attachments: Add any seek document, and make sure that the added files are named well. It is very necessary to maintain a well-mannered and professional throughout the message.
How to Write a Job Application Letter?
Follow these steps to write a gripping application letter:
Research the Company and Job Opening
Before you write the email, make sure you rigorously research the company you are putting in an application to and the identification of the open position. Look for details that will make you customize your application letter.
Use a Professional Format
The application letter should follow a professional format which includes using words like To Whom It May Concern (if the specific contact isn't known) or Dear Sir/Ma, your full name, your contact information (email address and phone number), the date, and the company information.
Say the Position You Are Applying For
Start the letter with an understandable statement regarding the position you are applying for. Mention the name of the company and state where you saw the job post.
Explain Why You Are The Best Person For The Job
Briefly explain why you think you are the best person for the job opportunity. Give full details concerning your skills, education, certificate, or experience.
Condense Your Qualification
Give a brief summary of your background that mention the most relevant points from your resume. Highlight the high qualifications that make you the best person for the job. What you want the hiring managers to see or know first should be considered.
State Your Reason For Applying For The Job
Mention a personal word about the reason you want the position.
Write A Professional Closing:
Appreciate the employer for reviewing your letter, reference your resume, and any other added document.
If you can follow the above steps, you should be able to write the best job application letter. From there you could win the heart of your employers and be considered for the job. Good luck!