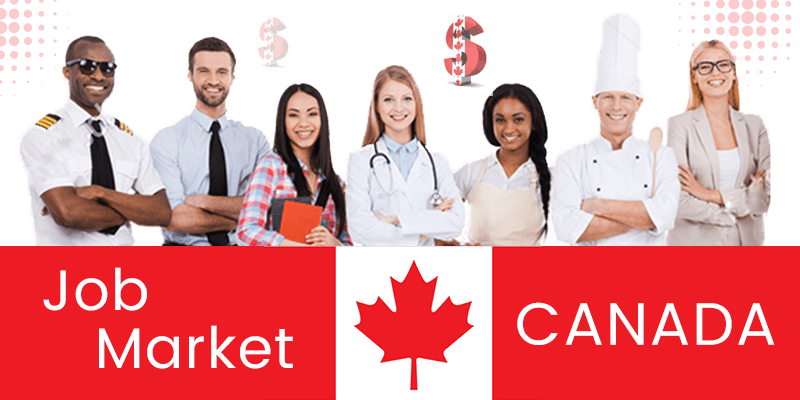 Welcome to our detailed article where we have clearly explained the top paying jobs in Canada and how you can be part of any of them. Its no longer new that Canada is interested in welcoming over 300,000 new foreigners before the end of 2023. This is a great opportunity for those who are interested in living and working in Canada.
As a foreign national who will be working in Canada, we felt it should be important for you to understand some important information about jobs and working in Canada. The most important aspect of working in Canada is the pay. Its important you understand how much you will be paid to work in Canada and also compare them to your home country.
After we having taken a look at the top paying trades jobs in Canada, we will also be looking at the average trades job salary, average national salary, cost of living examples and the quality of life trades workers enjoy while in Canada. So, its recommended that you stick with us till then end of this article.
The Highest Paying Trades Jobs in Canada
The below table shows a list of the highest paying trade jobs In Canada
| | |
| --- | --- |
| Occupation | Average Annual salary in Canadian dollar |
| Carpenter | $50,000 |
| Electrician | $66,000 |
| Iron Worker | $63,000 |
| Plumber | $62,000 |
| Pipe Fitter | $64,000 |
| Welder | $43,000 |
| Millwright | $62,000 |
| Mechanic | $54,734 |
Please note
All the jobs we mentioned above are categorized under skilled trade. So, as we move further, we will be explaining how you can immigrate to Canada using the skilled trade program which is also a subsidiary of the express entry program.
How To Become A Permanent Resident In Canada?
Skilled trade workers are in high demand in Canada. This is why the immigration refugee council of Canada has made the path to becoming a permanent resident very clear for qualified applicants. Now let's look at the skilled trade program under the express entry immigration program.
Canada Skilled trade immigration program
Let's make it clear! If your occupation is classified as a skilled trade and its in demand, you can easily qualify for a permanent resident in Canada in just six months or less without the need to have a job offer from an employee in Canada. Check the below table if your job falls under any of the categories.
Supervisors and technical jobs in production, agriculture and natural resources
Industrial
Electrical
Construction trades
Chefs and cooks
Butchers and bakers
Processing and manufacturing supervisor
Control operators
As long as you meet the following minimum requirements and work in a skilled trade, you can begin your application for Express Entry into Canada.
What are the requirements for Express Entry?
In general, those interested in applying for the express entry program are expected to meet with the below requirements.
Must have at least one year of work experience in your skilled occupation.
Must be proficient in either English or French language. Test scores from IELTS or any other recommended results will be required.
Must have a valid post-secondary education that is equivalent to the Canadian educational standard.
How to immigrate to Canada with the Express Entry system?
After meeting with the minimum express entry requirements, you will be required to create an online profile. Some important information needed for this include:
Your passport documents
Language test results
Education credential assessment report
Certificate of qualification in a trade occupation issued by a Canadian province
Proof of work experience
Provincial Nomination
You will be given a grace of sixty days to complete this online profile. if more than one candidate has the same lowest score, the cut-off mark will be based on the date and time they submitted their Express Entry profiles.
Study a Trade In Canada
If you already have the right qualification to work in a field, getting certified in Canada won't be that difficult for you. But on the other hand, if you want to be trained in Canada, then you need to study in Canada. In most cases, you will be required to have some funds to get this going. But be rest assured that apprentices earn salary while studying. The salary you will be paid as an apprentice will be enough for you to cover your expenses. If we are to estimate what you salary will be like, we can simply guess around 50% of what your full payment should be. By the time you are done studying and you are now qualified to practice, you will start earning the starting salary in the field of your profession.
Cost of Living in Canada
Its no new news that people in Canada are living a standard and comfortable life. Before immigrating to Canada, its highly recommended you carry out an extensive research on the cost of living in your province of choice. This is because living in some province in Canada are a bit expensive when compared to others. So, you have to evaluate your income and earning capacity before making any decision. However, food in Canada is very cheap and you should be able to afford as much as you want. If you are looking at healthcare, that is already handled by the government.
The below table shows the cost of living in Canada.
| | |
| --- | --- |
| EXPENSE | AVERAGE COST PER MONTH |
| Rent | $750-$1000 |
| Food | $350 |
| Cellphone | $45 |
| Internet Access | $55 |
| HealthCare | FREE |
| Public Transport | $97 |
| Utilities | $159 |
| Beer at bar | $6 |
On the other hand, Canadians are very lovely people and are also willing to welcome new comers to live with them. A recent pole carried out in Canada shows that over 85% of Canadians are happy to foreign immigrants in their community.
Quality of Life In Canada
As a country that is really interested in offering value to skilled and hard-working individuals, its no wonder why the top paying jobs in Canada exceed the average wage. With this alone, you are fully assured of getting the best and affordable life in Canada. Are you interested in natural resources? There are a lot of them in Canada, ranging from crystal lakes to snow capped mountains. Also, you can also decide to learn a new skill so you can increase your earning potential at one of the top tier institutions.